INNOVATIVE MARKETS AUTHORITY IN AFRICA
The Capital Markets Authority (CMA) is charged with the prime responsibility of both regulating and developing an orderly, fair and efficient capital markets in Kenya with the view to promoting market integrity and investor confidence.
13 -15 December
The Diaspora Investment Conference
8 -10 December
Kenya Diaspora Homecoming
3 December, 8.00pm
Diaspora Webinar
March 16, 2023: 2PM(E.A.T)
Wealth Creation webinar
May 22-26, 2023 Egypt
African Development Bank Group Annual Meetings
May 25, 2023 Kenya
ETF Workshop (Virtual) hosted by the Capital Markets Authority Kenya
June 13-15, 2023 Bangkok, Thailand
48th IOSCO Annual Meeting
Be On the Know
We're committed to protecting consumers, enhancing market integrity, and promoting competition in the interests of consumers. Find out more about our work
Capital Markets Master Plan
The Capital Markets Master Plan (CMMP) is an industry wide blue print designed to chart the development of the capital markets for the next ten years between 2014-2023. The CMMP was developed through broad consultation with internal and external stakeholders, including international benchmarking with jurisdictions that have instituted financial sector reform strategies…
Capital Markets Strategic Plan
The Capital Markets Authority's 2018-2023 Strategic Plan outlines the Authority's blueprint for the five-year period commencing July 2018. The Plan envisages the positioning of Kenya's domestic capital markets as the premier choice for investors and issuers through robust regulation, supportive innovation and enhanced investor protection. It outlines what we intend to do, to achieve this goal.
The Capital Markets Soundness Report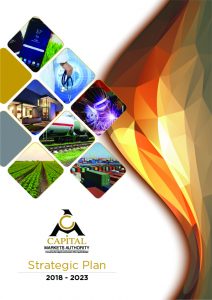 The Capital Markets Authority (CMA) Soundness report is a Quarterly publication on capital markets stability indicators for the preceding quarter. It provides an overview of capital markets performance in international, regional and local markets according to standard indicators. It also contains a Special Feature and its implication to capital markets stability.